High-Quality Remodeling and Design In Dallas
At Millwood Remodeling and Design, we believe that your home is more than just a place to live—it's a reflection of your style, personality, and aspirations. With our unwavering commitment to excellence, we bring your vision to life, transforming your space into a haven of beauty and functionality. As a premier remodeling and design company based in Addison, Texas, we proudly serve clients in North Dallas and surrounding areas, offering unrivaled craftsmanship and the highest quality materials to create spaces that inspire.
Unparalleled Quality, Craftsmanship, and Materials
At Millwood Remodeling and Design, we understand that true luxury lies in the details. Our team of experienced craftsmen and designers share a passion for creating extraordinary living spaces that exceed your expectations. We are driven by a relentless pursuit of excellence, ensuring that every project we undertake showcases our signature blend of quality and artistry.
When it comes to materials, we settle for nothing less than the best. We source premium products and materials from trusted suppliers, ensuring durability, beauty, and long-lasting performance. From exquisite natural stone countertops to rich hardwood flooring, every element of your remodel is carefully selected to elevate your home's aesthetic appeal and value.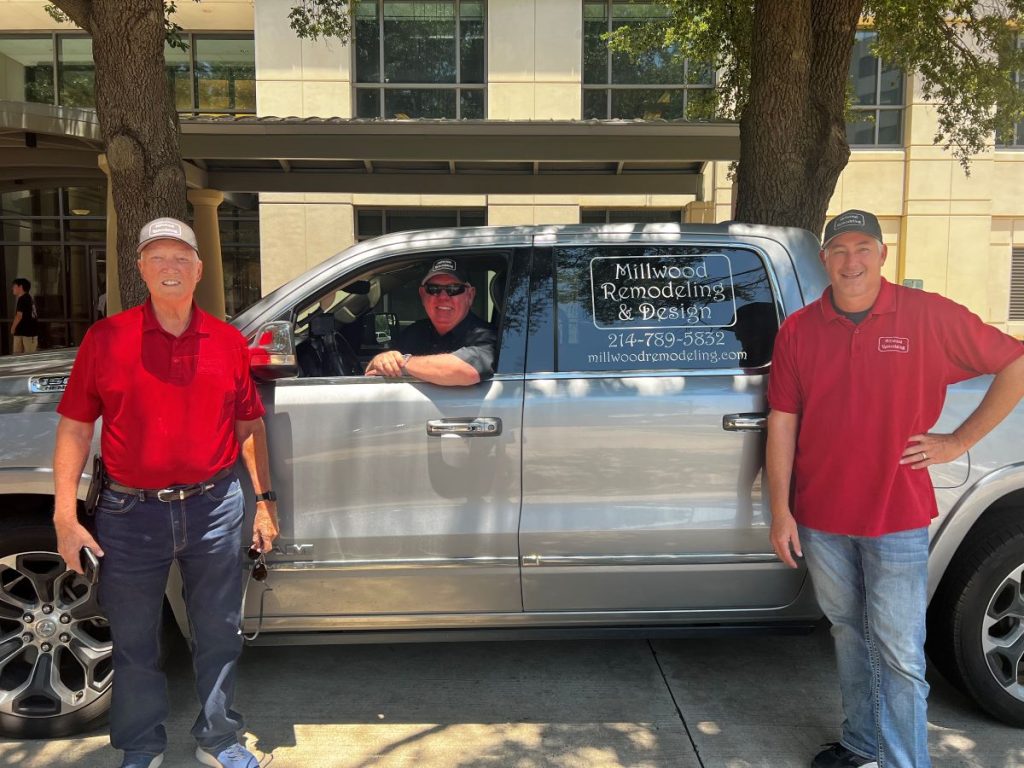 Kitchen Remodels Completed
Bathroom Remodels Completed
Comprehensive Remodeling Services
Whether you're looking to remodel your entire home, update your bathroom or kitchen, revitalize your floors, or transform your living spaces, Millwood Remodeling and Design has the expertise to bring your dreams to reality. Our comprehensive range of services caters to every aspect of your remodeling needs, ensuring a seamless and stress-free experience from start to finish.
Comments and Reviews
Testimonials​
See What Our Customers Say
"Millwood remodeled my kitchen and half bath. This included painting the cabinets as well as installing new countertops and backsplash. They also repainted the half bath and installed new fixtures. The team was incredibly professional and efficient. I really appreciated the project management by Ryan and Graham. The team on-site arrived on time and left a clean site every day. They were extremely courteous and made sure I was inconvenienced as little as possible. They also completed the full remodel in less than 3 weeks. I would highly recommend them to anyone."
"Millwood Remodeling has done fantastic work in our home three times in the last 10 years! They remodeled our kitchen, primary bath, and most recently did a major remodel with new hardwood flooring, carpet, crown moulding, and interior painting. It feels like a new house! Millwood does high quality work and their crews are very respectful of our space. All work is to contract and they spend a lot of time with clients up front making sure they know exactly what we want. If issues arise, they are quick and creative with solutions. I highly recommend Millwood for your next remodel, I know we will use them again for ours!"
"We are very happy with our kitchen and den remodel. Graham, Ed, and Ryan were always responsive and available. Esteban and his crew were exceptional, detail oriented, and capable of doing anything and everything we asked with great skill. If we were doing the project again, I would have thought through ceiling light and outlet placement a bit more thoroughly. We would absolutely use Millwood again for future projects. Very professional, tidy, and all around lovely to work with. Our end result is what we hoped for when we started the project."
"Great work from start to finish! We did a complete kitchen remodel that included knocking down walls and gutting the entire room. We could not be more pleased with the outcome and would recommend this team to anyone considering a home remodel. The crew was best in class and worked 10 hour days to complete the project in a timely manner. Their attention to detail was impeccable. 5 star all the way!!!!"
"WOW! What a great experience. Millwood delivered more than we expected. The process was so easy. Their crew was top notch. Their craftsmanship is at expert level. We can't say enough goo about the process, the material, craftsmanship and value. Thank you, Millwood."
"Graham and Ryan and the crew at Millwood Remodeling did an excellent job! They were professional and always available from the start of the design process to completion. We had to repair our kitchen due to a broken pipe and they were able to get us back in 3 weeks earlier than initially expected. They stopped by every single day to keep track of the project and were very communicative. Jose and his crew were excellent as well doing the day to day work!"
"Millwood did a beautiful job adding solid wood to our bedroom for a perfect match of the wood in the rest of the house. Communication was great and the workers were professional. They took care to protect our property and cleaned up each day after working. We could not be happier with the job. One of the best experiences we have had with a construction company."
"Our experience with Millwood Remodeling was outstanding. Our crew arrived on time every day and worked steady all day. We love our Master Bath remodel as well as the other work the crew performed. The team thought of every detail. Graham did a excellent job with the design which was exactly what we wanted. Thank you Millwood!"
"We are very pleased with the quality of work and professionalism displayed by Millwood Remodeling, both the owners and their employees. It was a pleasure working with them and we absolutely LOVE our remodeled kitchen!!"
"Millwoid Remodelling did a great job on installing hardwood floors on the second floor of our townhouse. They communicated well, were always on time and very professional and accommodating. We are loving our new floors and planning to use the company for other projects in the future."
Millwood Remodeling and Design is honored to be recognized as a 2019 Best of the Best Award Winner! We take great pride in our work and encourage you to see why we are one of the Best of the Best.
Serving North Dallas and Surrounding Communities
As an Addison-based company, we take great pride in serving our surrounding communities in North Dallas. Addison's unique blend of small-town charm and vibrant city life makes it an ideal location for homeowners who seek the best of both worlds. Whether you're a longtime resident or new to the area, we are here to enhance your home and elevate your living experience.
In addition to Addison, we extend our services to clients throughout the Dallas area. From Dallas to Southlake, Plano to Arlington, we are your trusted partner for exceptional remodeling and design services. Wherever you are in the DFW region, we bring our expertise and commitment to excellence right to your doorstep.
Call or Text Millwood Remodeling and Design Today
If you're ready to embark on a remodeling journey that exceeds your expectations and brings your dream home to life, we invite you to contact Millwood Remodeling and Design today. Our dedicated team of professionals is eager to collaborate with you, turning your vision into a reality. Experience the Millwood difference and discover the possibilities for your home.